Musty is a word that is sometimes used to describe the feeling you get from a stale or a stuffy room. It's usually a smell that you just can't quite put your finger on, but you know that there is something that is not quite right. But in most cases that "not quite right feeling" is the presence of mold and mildew.
Why Does My Room Smell Musty?


A musty smell in a room is an indicator that you have moisture coming in somewhere that along with dirt or grime has become a source of food and nutrition for mold and mildew to take root. Mold can take root and grow very fast when given the right ingredients. A musty smell should be taken seriously as a warning that there is an issue with mold close by.
I've had a personal experience with this.
In my neighborhood there was an issue with heavy rains that washed over the curbs and went up the driveway and eventually seeped into the backdoor of the house.
It didn't seem like much at the time so we really didn't do too much about it besides put some towels down to soak up the water. And it was the very back of the house that doesn't get a lot of traffic anyway.
A couple of months later I noticed a rotten smell coming from that area.
I pulled out a bookshelf that was in that corner and pulled up the edge of the carpet only to find that dark green and black mold had spread heavily underneath the carpet and had made its way all over the wall and the back of the shelf, including all the books on it.
It was pretty shocking to see how much the mold had taken over.
We had to take the carpet up and remove and replace the drywall on that side of the room.
Luckily the mold did not turn out to be the dangerous Stachybotrys or black mold.
All that to say that if you have a musty smell in your room, it's a situation that you should take seriously.
Mold can do more destruction than you may be giving it credit for. And do it much faster than you may think.
Mold can also exasperate allergies and is known to be a trigger for asthma.
What you are looking for in your room when you have a musty smell is an inappropriate source of moisture.
According to the National Library of Medicine , Mold spores are practically everywhere and there is really no way to get away from them or keep them out of your house. But without an adequate source of moisture, they cannot grow and colonize into a problem.
So the fundamental thing you're looking for in the case of a musty smell is moisture and the supply of that moisture.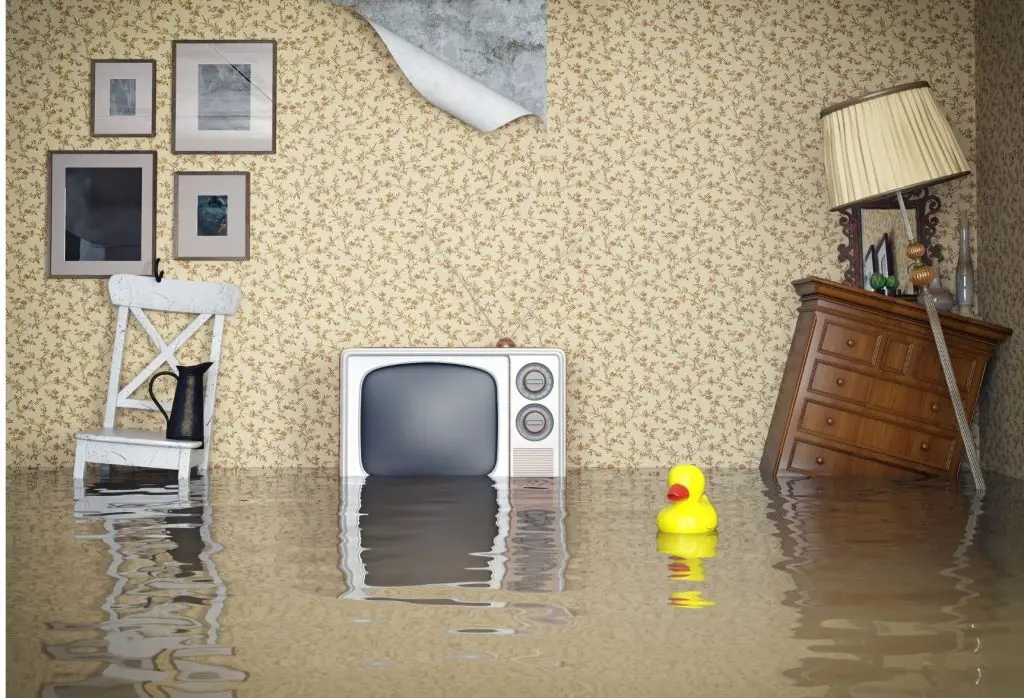 Why Does My Room Smell Musty in The Morning?
What could be some reasons your room smells musty?
Wet carpet
Wet drywall
Window seals
Dew
Leaves
Moldy items in trash
Moldy food laying around
Mold inside of the HVAC duct work
1. Wet carpet
Remember that you are looking for the source of the moisture.
If you have wet carpet then the ideal is to figure out why it is wet.
Some reasons may be as simple as a soaking wet towel laying on the carpet or has there been a big spill that was not cleaned up?
If you have a large area that is damp, then there may be a leak that has sprung from a pipe beneath the flooring.
it will be worthwhile for you to peel the carpet back and make sure that your floor is not soaking wet beneath.
And if it is, you should make it a priority to have it fixed as soon as possible to avoid further damage and mold growth.
2.  Wet drywall
It can be a smell can be coming from the walls if a pipe inside of the wall has busted. Examine the walls and see if you can find any areas where they are bubbling, swelling, or peeling which would indicate that moisture has gotten inside of the drywall.
3.  Window seals
One area that moisture can get into the house easily is the windows. If the windows are not sealed properly, you can find moisture creeping in around the window. If it has been going on for a long time, you will also find the frame around the window rotting.
4. Excessive humidity
If you live in an area with a climate that is prone to high humidity, you may find that it is the humidity that is causing moisture to build up inside of your room. If this is the case, then mildew is probably showing up on your walls or ceiling somewhere.
This is the case in many basements. The level of humidity inside of the room causes condensation to build on the walls and create a natural food source for mold and mildew.
The best solution in that case is to use a dehumidifier to pull moisture out of the air so that it does not have a chance to become a problem in the form of mold.


5.  Dew
Many people claim to be more concerned with the dusty smell in their house in the morning time.
That morning musty smell is usually associated with the moisture that develops in the air in the early morning hours.
It's the moisture that is commonly known as dew.
Dew can help turn the volume up on the smell of mold and mildew in the morning.
6.  Leaves
Leaves, specifically in the Autumn season can pile up in gutters and around the house and make an excellent environment for mold to take root. And once the mold has colonized inside of the leaves, any sort of rustling around caused by the wind or by kicking the leaves can unleash mold spores into the air.

7.  Moldy items in trash
Sometimes a musty smell is coming from a moldy item that has been thrown away and just sitting there stinking. The trash can is one of the first places to look when you smell something musty in your room.
8.  Moldy food laying around
Moldy food can cause a very pungent musty smell when it is laying out or in the trash can. Items like half eaten hamburgers and apple cores are best disposed of in the main kitchen area where the trash is taken out more frequently.
If you have a musty smell in your room, looking for any food that has been left out to mold is a good place to start.
Another place that you can find moldy musty smells is in the kitchen sink where the garbage disposal is. If the garbage disposal has not been cleaned properly in a while, you are liable to smell moldy food coming from there.
9. Mold in HVAC ductwork
If there is mold in your ductwork, you can be sure that it will be distributed throughout the house every time the heating or air conditioning comes on.
According to this study, mold can be commonly found inside of an air handler, specifically the wheel fan blades, the ductwork, and the cooling coil fins.
Another source of mold coming into the house through the ductwork is the evaporative coils. Dirty evaporative coils contain all the ingredients for mold to flourish and find its way inside of the house.
If you have a musty smell coming from your HVAC ductwork, cleaning the evaporative coils located on the outside section of your unit is a good place to start to reduce the volume of mold spores coming in.
Another trouble area for HVAC systems when it comes to mold is the drip pan. If the drip pan is not draining sufficiently, water can build up in the pan and become a source of mold.
Clearing any blockage from the drip pan to the outside drainage is also a good way to ensure that you do not have mold growing and coming in through your HVAC.
UV systems are often used to target areas like evaporative coils and drip pans so that mold does not have a chance to colonize and become a problem in your air quality.