If there is one thing that I have learned this past summer season is that a little humidity goes a long way.
This has been, no doubt, one of the rainiest spring and summer seasons I have ever lived through.
The heat has been through the roof and the air conditioners don't even feel like they're on half the time.
  I guess we all know how miserable, excessive humidity can feel going through our regular work and school days.
And just about everybody has had an experience with their hair looking terrible because of the humidity outside,
But comfortability and great hair could be the least of your worries when the humidity has risen sky high in your home.
Symptoms of high humidity in your home
If you tell tale signs that the humidity inside of your house is too high.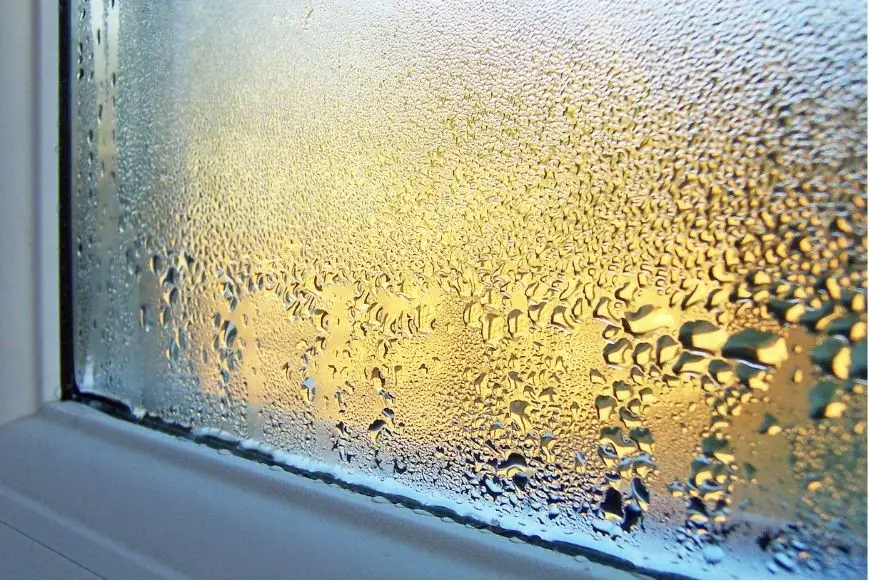 1. Condensation on the windows
Everybody knows what it looks like in the bathroom when they get out of a hot steamy shower.
The mirror gets completely fogged over in the windows get a layer of condensation on them.
That's par for the course and completely understandable in the bathroom.
But if you have condensation on the windows in other parts of the house, that's not normal.
That is definitely a symptom of high irregular moisture in the air.
2. Allergies and breathing issues

Air that is heavy with humidity can be harder to breathe. Especially if you're coming from an area that is dry and traveling to an area that is extra humid like the tropics.

  But adapting to breathing extra wet air is not the only thing that makes humidity tough on your respiratory system.

Humidity just happens to be one of the main ways that dust mites get their nourishment.

Heavy humidity can cause an explosion of dust mites. Which are a common household allergen that can cause you to have multiple symptoms like sneezing, itchy eyes, and coughing.

Another allergen known to be spurred on by higher humidity is mold. More specifically the mold spores that are released from the mold and travel through the air looking for the next place to take root.

Allergies and breathing problems while in the house can definitely be a symptom of high humidity.
3.  Visible mold growing on the wall

If you have mold on the wall, there is no doubt that you have an issue with high humidity in the area of said mold.

Humidity is not only caused by climate, you can just as easily because of a leaking pipe.

Mold only needs a simple recipe of dampness, darkness, and something to feed on.

That's why you find mold growing in places like under the kitchen and bathroom sinks so often.

If you find mold growing on the walls, you will also find a source of moisture fairly close by. Guaranteed.

4.  Wet drywall

If a room is exposed to heavy humidity for too long, the drywall can begin to absorb moisture out of the air.

The result can be areas in the drywall that are damp to the touch or slightly bowing.

Damp drywall can also be a symptom of humidity inside of the walls caused by a leaking pipe inside and near the damp part of the drywall.

Discoloration of the drywall is also a telltale sign that you have excessive humidity somewhere in the area.

If you have a dark discoloration in the drywall, you can be fairly sure that you have a leaky pipe in that area.

You probably noticed the leak like this in the ceiling before.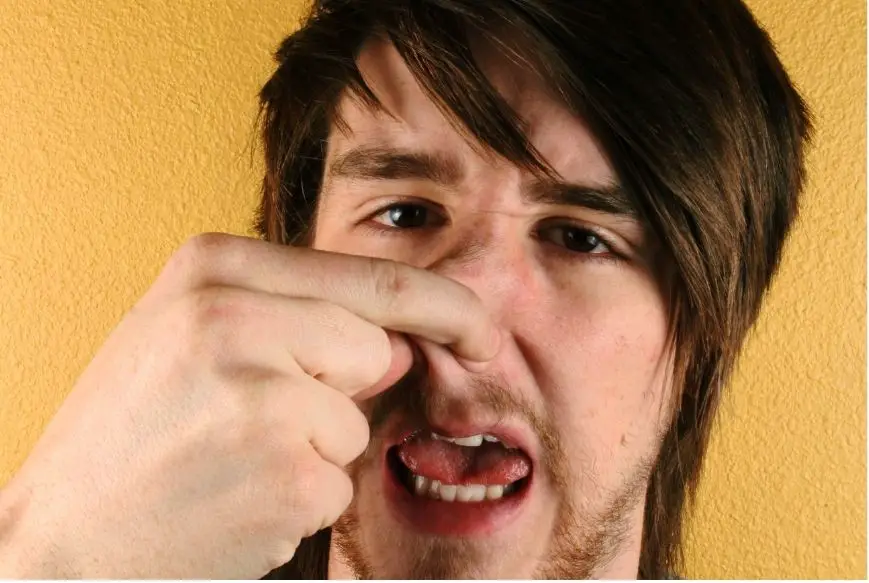 5. The smell of mildew
Mold and mildew have a specific smell that is hard to miss.
Even when you don't see any signs of mold growing on the walls or find any areas of dampness,
The smell of mildew is a surefire indication that there is mold growing somewhere.
Your nose always knows so follow your nose.
Excessive humidity in your house can cause mildew to grow in any dark corner it can find.
Which means it will not be obvious to your eyes. So trust your nose, if you smell mildew, you are smelling a symptom of high humidity.
6. Air conditioner doesn't feel like it's running

High humidity can make the air conditioner feel like it's doing very little or nothing at All.

If you got the air conditioner on and you know the filters are clean and there's nothing going on with the thermostat,

There's a good chance that the humidity level is just at a point that it's causing the AC to feel pointless.

An Air conditioner not feeling cold can definitely be a symptom of high humidity and excessive moisture in the air.

7.  Excessive condensation coming from your air conditioner

If you are running a window air conditioner or using the air conditioner in your HVAC system and you notice a lot of condensation building up and dripping out of your unit,

You can bet that the humidity is high.

That is because these units convert the humidity in the air to condensation and funnel it outside.

Another way the air conditioner can provide you with a symptom of high humidity.

8.  AC is set to "Fan on" instead of "Auto"

If your air conditioner is set to the fan on position, the humidity that is typically funneled out of the air conditioner doesn't have enough time to evaporate and is blown back into the house through the vents.

This can also happen when your air conditioner unit is too big for your house.

If your unit is too big then it can cause rapid cycling which will also not give the humidity enough time to evaporate before it's blown back into the house.

Improper settings and unit size of an air conditioner can cause and be a symptom of high humidity in the home.
Summary
Symptoms of high humidity in the home come in the form of condensation on the windows and mold growing on the walls.
Other symptoms that suggest does the humidity is too high inside of the home is an air conditioner but just doesn't feel like it's doing anything
or having a hard time breathing because of the amount of dust mites and mold spores traveling through the air because of the high level of moisture feeding them.
And if you are smelling the musty smell of mildew, you can bet there is mold growing somewhere around you.
Another symptom that you have high humidity in your home.
What to do?
Dehumidifier
A dehumidifier is a device that pulls humidity out of the air. Dehumidifiers come in all sizes and range from simple " dump the water out yourself models" to modern Wi-Fi units that include humidistats with a pump and a hose attachment that make it super convenient to use.
Dry mode on the AC
There's a good chance that the settings on your air conditioner include "dry mode".
"Dry mode" is the dehumidifying function of a refrigerated air conditioning unit.
The AC itself
Though the humidity can get to a point that it makes the cool function of an air conditioner seem like it's not doing anything,
Running the air conditioner, provided we are talking about a refrigerated AC, will still reduce the humidity inside of your home.
And many times, it's not the temperature that's making your home uncomfortable, just the humidity itself.