Can you use a window air conditioner inside a room?

Yes,  you can use a window air conditioner without a window inside a room. Though there is not any type of professional conversion kit you buy, there are some very good DIY methods.
Rather just purchase a portable AC that you do not have to modify? Check out the Black & Decker 12000 BTU portable AC with you dehumidifier and fan Here.
A lot of people say that window air conditioners can not be used other than through a window.
But that's not my experience.
I have seen them modified to work in shops, garages and basements.
The thing is you've got to know a little about how a window AC works before you can make it work without a window.
But it is actually not as difficult as you may think.
The main things you need to know are how to vent it and how to capture the condensate.
The first thing you need to know is that heat is generated and expels out of the entire back of the unit when it is running.
That means you are not going to be able to bring the unit in and put it on the table, then turn it on and have it cool off the room. I wish it were that easy.
The heat it creates will overtake the cool air coming out and you'll end up with a hotter room everywhere except right in front of the air conditioner.
"You're going to have to fashion a way to capture the heat coming out of the rear and vent it somewhere. Preferably outside or into the attic. A closet would even do if there isn't any thing in it that the heat would effect."
Sometimes using a window air conditioner without a window may be as easy as cutting a hole in the wall and setting up the window AC the same way you would if it were in a window.
That is probably a good option if you're committed to keeping it there.
But if you want to preserve your walls, there are other ways.
How to Vent a Window Air Conditioner Without a Window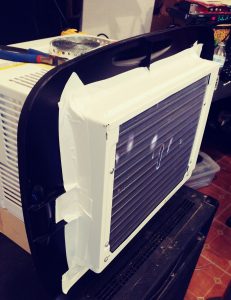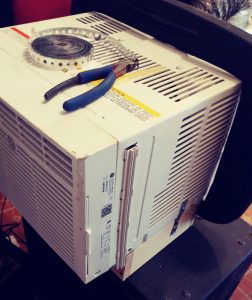 In the example here, a storage bin is modified to fit around the rear of the AC and flexible duct is used to vent the heat into the attic.
The lid is cut and duct taped around the opening to create an air tight seal.
The reason a storage bin works is that it gives plenty of room for heat the to go.
That's important because if the heat gets trapped, the AC will overheat and will not cool down.
Another important thing to remember is to leave the side grills open.
The grills and the sides are basically there to allow fresh air in to help cool off the AC. So make sure that they are not drawing air from the vented heat.
Does a Window Unit Have to be in a Window?


On the bucket part of the storage bin, there is a vent box cut into and duct taped to the plastic.
That makes it easy to connect the flexible duct, but it's completely optional. You can get away with taping the duct straight to the plastic.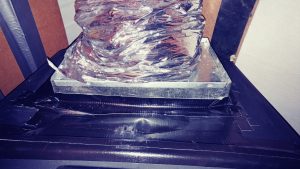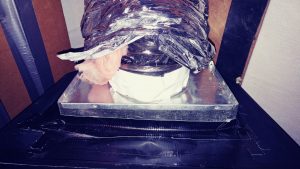 The duct is fished into the ceiling. Which is fine because it is a garage.
If you having to vent off into a closet or another room, you can use cardboard to  fill the space around the flex duct.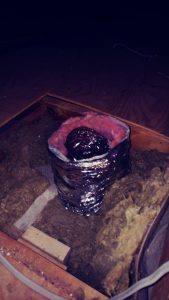 As for the condensation,
Since the air conditioner is sitting on a wooden frame to elevate it to the level of the lid on the storage bin.
This leaves plenty of room to put something underneath the air conditioner to capture the condensation runoff.
It is also possible to rig up some sort of hose for the condensation run off to drip into.
Something you might see on evaporative cooler.
Convert Window AC to Portable
Basically the whole thing is a DIY conversion of a window air conditioner into a portable air conditioner.
Portable air conditioners run exactly like window air conditioners except for they already have the flexible duct connected and come with ready-made kits to vent them out windows and doors.
They also have a bucket to capture the condensation.
But most of the supplies you need to do your own DIY indoor window air conditioner are usually around the house or don't cost too much
And if you're on a budget a low in window air conditioner even with the DIY supplies to convert it is cheaper than the low in portable air conditioner.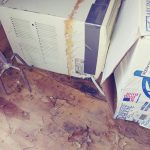 You can find them in garage sales and tucked away in storage sheds quite often too.
Plus it's pretty fun when you get it done and it works good.
Good luck.
Not for you?
Fashioning a way to use a window air conditioner without a window can be a lot of work.
And if you don't have a window AC sitting around somewhere that needs to be used, it's work that you may not want to do anyway.
Portable air conditioners already have everything you need built into the unit and apart from finding a place to vent it to, are ready to go.
Another option is ventless portable ACs.
This type of air conditioner does not require any type of vent to exhale the heat, but it does require adding water regularly.
Here are a few choices we recommend if you decide to purchase a portable AC rather than go through the trouble of converting a window AC to use inside a room or house.
This is a small portable air conditioner that combines a air conditioner, dehumidifier, and a fan. Also features a remote control and window conversion kit.
The unit also has a Eco sleep mode that automatically adjust the temperature while you sleep.
Covers 150 square feet
10000 BTUs
13×17.1×28.3 in
60 lb
Model number-MPF10CR81-E

Washable filter
Pros
Cost less
Very well reviewed
Can be used as a dehumidifier as well as a fan as an option
Cons
More BTUs equates to higher energy costs
Noisy
This portable AC unit includes a air quality sensor that they call "Eco Real Feel". The sensor monitors and controls the functions of the AC including cooling and dehumidification to provide the ultimate comfort. Eco Real Feel can save you as much as 30% in energy consumption.
Covers 700 square feet
14×16.3×31.5″
1345 watts
Dehumidifier has an 86 pint capacity.
Pros
Remote control
Air quality sensor
Super quiet
Cons
1345 w.
Some reviews claim the hose is too short
ComfyHome 2 in 1 Evaporative Air Cooler and Fan
Evaporative cooler for a small to medium sized room.
Unique design without the standard air conditioning blades in the front. This Ventless portable AC comes with the remote and a timer that can be set up to 8 hours.
Evaporative coolers function by blowing air over water which makes it work like a humidifier in the process.
This AC comes with ice packs to put in the water so that the air being blown it's not just blowing over water, but ice cold water.
Pros
Automatic swing function
Three wind speeds
8 hour timer
Remote with a 20 ft range
Cons
Humidity is a big factor when it comes to heat and comfortability. Air coolers are also called swamp coolers because they make the air feel swampy in climates that are already humid.
Loud.